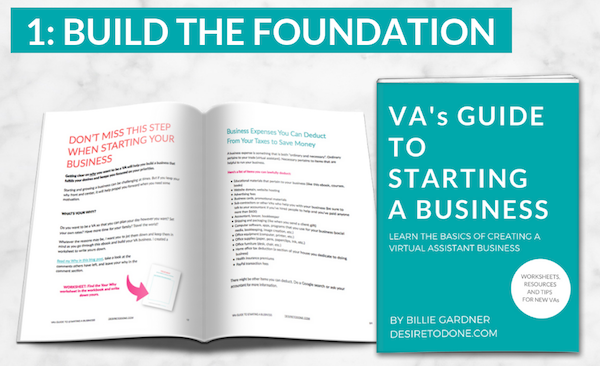 VA's Guide to Starting a Business

(Reg. $25)

(Ebook + Workbook)
Learn — and implement — the important foundational pieces you need to have in place to start your business off on the right foot, right away.
Chapter 1: Get Clear on Your Why (Get clear on your personal goals before starting your own business and working from home)
Chapter 2: Discover Your Niche (Analyze your skills, talents, and interests to find out what you can offer to paying clients)
Chapter 3: Identify Your Ideal Client (Get clear on who you want to work with and who you don't)
Chapter 4: Create Your Service Offerings (Create services that you enjoy and your ideal client needs, plus learn a variety of services you can offer, right out of the box)
Chapter 5: Price Your Services (Learn about pricing models and figure out which is best for you)
Chapter 6: Craft Your Business Name (Go through a list of questions to create the perfect name for your business)
Chapter 7: Choose Your Business Entity (Learn the best way to structure your business and the steps to take to make your biz legit)
Create the business policies -- and boundaries -- you need to have in place, plus learn how to properly communicate them with your clients via rock solid contracts.
A step-by-step training to help you find clients and make money. Learn what to do before, during, and after bringing on your first client…plus over 30 marketing strategies to keep clients coming in!
Chapter 1: Design your client processes (The four main client processes you need to make client onboarding quick and easy, what to include in your proposals, why I don't send welcome packets, and how testimonials will help you get MORE clients)
Chapter 2: Build your client systems (How to create streamlined client systems that make you look profesh, how systems can keep you organized and NOT stressed out, plus a cheat sheet of my all-time favorite apps, tools, and programs!)
Chapter 3: Host high-converting discovery calls (The main goals of a discovery call and how to set it up, a script to use during your calls, tips for calming your nerves, plus how to determine if you and the client are NOT a good fit)
Chapter 4: Find your clients (How to create an elevator pitch and when to use it, plus over 30 marketing strategies to get clients FAST and keep them coming in)
Chapter 5: Managing your clients (Tips for managing multiple clients so that work is a breeze, as well as what to do when you're fully booked – which might happen sooner than you think!)
Chapter 6: Letting clients go (Signs it's time to let them go and how to do it the right away)
Systemize Your Biz
(Reg. $99)

(Online Course)
Skip the countless hours of researching and testing tons of tools to maybe find the right one. I'll show you exactly what you need and how to set it up. Boom.

💰 Easily send invoices to clients and collect yo' money
📅 Schedule calls and meetings with clients without the frustrating back and forth emails
📞 Hold client calls for free, even if you're in different parts of the world
💬 Create 'work with me" forms to simplify your client intake process + feedback forms to grab powerful testimonials (so you can snag more clients!)
🔒 Securely collect + store passwords, credit card info, and other sensitive info for your clients (also makes logging into a million different sites a breeze)
📝 Send contracts for e signatures + protect your assets 🍑
🖥️ Create documents and spreadsheets for your business that you can easily share with anyone you like
✔️ Keep tabs on multiple client to-do's, projects, and processes without breaking a sweat
📁 Share large files with clients instead of clogging up your emails
PLUS these bonuses:
1. Create a Professional-Looking Logo Tutorial: Learn how to create a beautiful logo for your business that you can add to your invoices, website, and other places where you want to look on-point!
2. 'Work with Me" Survey Cheat Sheet: Pick and choose from a range of questions you can ask potential clients and get clear about their needs prior to meeting with them.
3. Feedback Survey Cheat Sheet: Questions you need to ask every client after working with them.
4. Testimonials Toolbox: How to strategically use testimonials to snag more clients.
5. SOP Template: Knock out routine operations by creating a plan you can use again and again. Hello, efficiency!